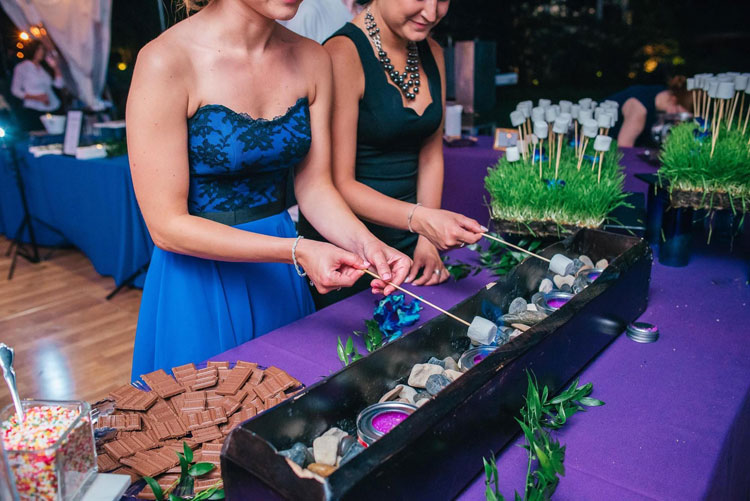 Weddings are all about bringing the people you love together, and food is an essential piece of the celebration. When creating a menu full of fun and imaginative food and drink ideas, it's worthwhile to consider the kinds of experiences we want to capture. Starting with this vision leads to stations that feature food that not only tastes good but is displayed in ways that inspire and delight your guests.
Over the last 50 years, we've listened closely to couples and collaborated with them to design creative menus and translate them into clever, fun and interactive elements that their guests will love. If you're looking for inspiration for your big day and are unsure where to begin, here are a few wedding food stations:
Macaroni & Cheese 
Noodles cooked to perfection and covered in delightful, gooey layers of cheese—mac and cheese is the ultimate comfort food! Here's a cheesy wedding station idea for you: elbow noodles blended with a creamy cheese sauce. Guests can mix and match toppings like smoked sausage, diced chicken, steamed broccoli, bacon bits, diced tomatoes and salsa.
Wisconsin Fish Fry
There's nothing like a fish fry, especially if you're planning a lakeside wedding in the heart of Milwaukee. A fish fry is a meal containing battered or breaded fried fish with complementary sides that work to bring out the flavor of the fish of choice. Our fish fry station features the following mouthwatering items: baked and breaded cod with coleslaw, potato pancakes, applesauce, tartar sauce and lemons.
Bruschetta Station
Bruschetta is a classic wedding staple. Who said bruschetta had to be boring? Try ours featuring traditional bruschetta served with crostini, fresh gorgonzola and parmesan, caramelized onions and balsamic soaked portabella mushrooms.
Potatoes A La Martini 
There's an art to creating the perfect batch of mashed potatoes. And who says that mashed potatoes belong as a side on a plate? At your wedding, they can be the star of an entire station. At Zilli Hospitality Group, we like to experiment with all kinds of fun vessels. That's what we had in mind when we created our Potatoes A La Martini station, featuring real smashed potatoes with the various toppings: bacon, chives, sour cream, shredded cheese, broccoli cheese sauce, chili and vegetable sauté.
Chilled Salad Bar
There's more to a salad bar than you think. The toppings, backdrops, vessels—even shelving you use to make a salad more than lettuce is essential to creating a colorful, lively wedding station. For our station, your guests could select three of these imaginative salad stations: quinoa savory salad, grilled vegetable couscous salad, ranchero salad buffet style, pan Asian crunch salad buffet style or big apple salad.
KC-BBQ Dinner in a Glass 
You read that correctly. Kentucky BBQ in a glass! Your guests' eyes and taste buds will pop when they try out this fun station featuring slow-roasted BBQ pulled pork served over poblano and cheddar potato shred, topped with a colorful, tangy coleslaw.
Create a wedding station that fits you
We'd love to help you create a fun wedding that matches the vision of your big day. If you're looking to design a station that fits a particular theme, check out these 50 Unique Wedding Styles for more inspiration on how you can match style and food. 
We've been helping couples create the wedding of their dreams across Milwaukee for over five decades. We would be happy to hear your style and food ideas. Connect with us!