When a trusted company and leader in its field asked us to service a conference at its Waukesha facility, we knew we had to bring a value beyond just delicious food. It would be more critical than ever that the reputable company could place confidence in our Milwaukee catering company, which has more than 50 years of experience. This way, the company could focus on providing its 45 guests with comprehensive training.
On May 19, it was also our plan to exceed expectations—just as the employees of this company do every single day. We did so by providing the most efficient custom catering service so guests could easily refuel for the next session. Attendees would learn through classroom instruction and a hands-on approach. This requires brains that are working at their best—and they can't do that hungry!
How Milwaukee Caterers Can Increase Attendees' Engagement
Fuel Up Right Away
As soon as guests arrived at 7:30am for day two of this innovative conference, they headed for the breakfast buffet in the conference room. Our friendly staff encouraged them to fill their plates so they would be ready to take full advantage of the morning meeting.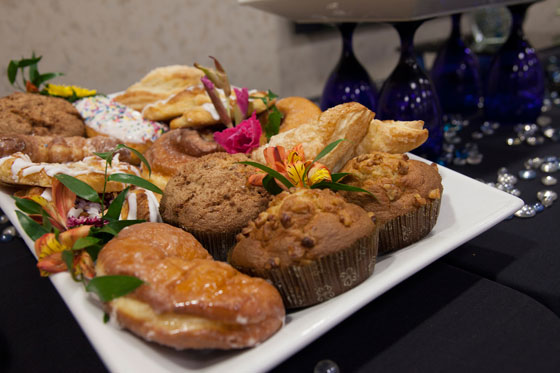 Whether they craved something sweet or light and healthy, attendees found what they were looking for at a large corporate breakfast buffet that included:
Sweet breads: Such as banana nut, lemon poppyseed, blueberry or cranberry walnut
Assorted donuts
Cinnamon rolls
Garden vegetable baked omelet: Fresh broccoli and cauliflower with diced zucchini, tomato, red and green peppers, onions and aged Swiss and cheddar cheeses baked in a fluffy egg base
Grand Marnier stuffed French toast: Sweetened cream cheese-stuffed French toast
Crisp bacon
Redskin potatoes Provençale: Redskin potatoes roasted and sautéed with peppers, basil, garlic and onions
Fresh fruit: Seasonal cut fresh fruit such as watermelon, cantaloupe, honeydew and pineapple garnished with grapes and strawberries
Of course, the beverage station was also a popular place throughout the day. Because hydration is as important as food for keeping guests alert and interested, we made sure it was well stocked. At breakfast, the piping hot French roast coffees and fresh juices were most popular. But bottled water and assorted soft beverages were also available.
Grab a Well-Balanced Morning Snack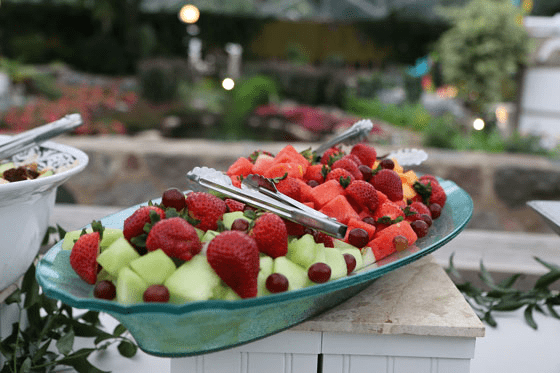 At the close of the 8:00am meeting in another conference room, guests grabbed a refreshing morning snack. With just 15 minutes allowed for service, we kept the offerings simple yet satisfying. Fruit kabobs as well as vanilla and strawberry yogurts with a granola topping provided guests with the perfect balance of nutrients. Protein, carbs and lots of vitamins kept them satisfied and energized through the next seminar.
Relax and Refuel at Lunch
At noon, guests again returned to the Faraday conference room for lunch. With an hour set aside in the busy conference schedule, this was guests' chance to relax and socialize while enjoying these satisfying foods with an innovative touch: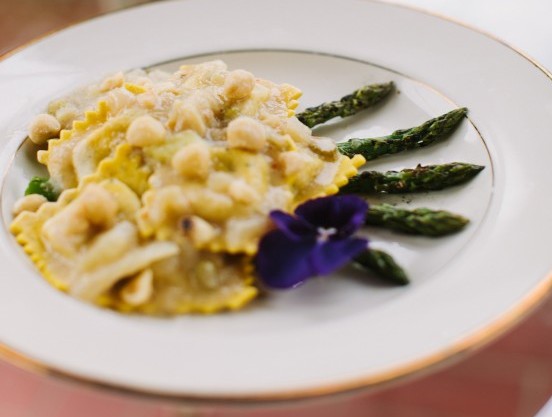 Grilled chicken bruschetta: Grilled chicken breast topped with tomato bruschetta mix and drizzled with balsamic glaze
Roasted butternut squash ravioli: Served with grilled asparagus, sun-dried tomato and olive tapenade with fennel and brown butter sauce
Dairyland broccoli salad: Garden fresh broccoli florets tossed with shredded cheddar cheese, red peppers, dried cranberries, real bacon, scallions and a zesty mayonnaise dressing
Orzo pesto salad: With feta, cucumbers, black olives and sun-dried tomatoes with pesto dressing
Caesar salad: Romaine lettuce, grated Parmigiano-Reggiano and croutons tossed in Caesar dressing
Give a Memorable Closing Experience
The afternoon snack that followed the third seminar was guests' last chance to enjoy our fine Milwaukee catering service before the final presentation. And just like the closing speech, this was our chance to leave attendees with something they'd never forget. Our chocolate mousse votives did just that—sending guests into the 2:45pm meeting in high spirits. Of course, some guests may prefer a simple salty snack, and who are we to judge? So old-fashioned kettle chips were also at guests' fingertips.
When the conference ended at 5:00pm, attendees went home with new ideas about innovative products. But maybe even more importantly, they left with one of the core values of this great company forever engrained in their minds. And we were proud to demonstrate this value—a commitment to superior service—to guests through our premier catering service.
Milwaukee catering companies with decades of experience and incredibly talented staff can make your next event exceptional. Find our creative and meticulous event planners online or on Facetime, or give us a call at 262-547-9447.
More Articles You Might Like:
Event Designer

Jessica Cliff
Event Designer
With my 15 plus years in the hospitality industry, with 12 years of experience in the catering industry, your event from the first hello to the post-event follow up will have my utmost attention.