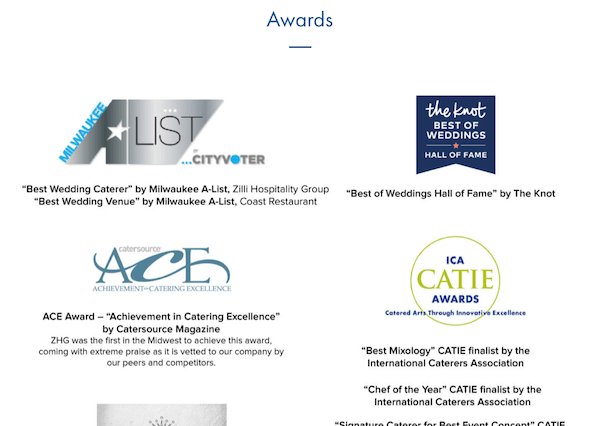 How we treat our clients and guests is a key part of what sets ZHG apart from our competitors. We think of it as a customer-centric approach.  This means that we are a little on the obsessive side when it comes to making sure our events live up to our own high expectations.  We invest a lot in training staff, for example, to make sure that the professionalism of our employees shines through when they are on the job at our clients' events.  (In fact, compared to our peers in the catering industry, we consistently spend a disproportionate amount on hospitality training and sanitation training.)
It has been great for ZHG to keep coming up a winner in community awards such as WISN's A-List, where we have again won honors by the voters. As we shared in the last newsletter, God has been good to us, and you, our customers, have again graciously put us at the top of the A-List.  We have also been honored as a "Best of Weddings" recipient by the members of theknot.com, an influential wedding website.  And an article in this newsletter describes two other awards.  One is the "Trailblazer Award" given to Ellen Zilli, the founder of the company, by Gov. Scott Walker, in recognition of the success of the company and her role in it.  We also were honored by our peers when we were a finalist for the coveted Caterer of the Year award at the 2014 Catie Awards, an event put on by a prestigious organization of leading caterers, with more than 20 countries represented.
As ZHG heads into another season of tailgating, company picnics and summer weddings, we are ready to keep on breaking all the rules on customer service and will continue working hard to wow our customers and their guests.