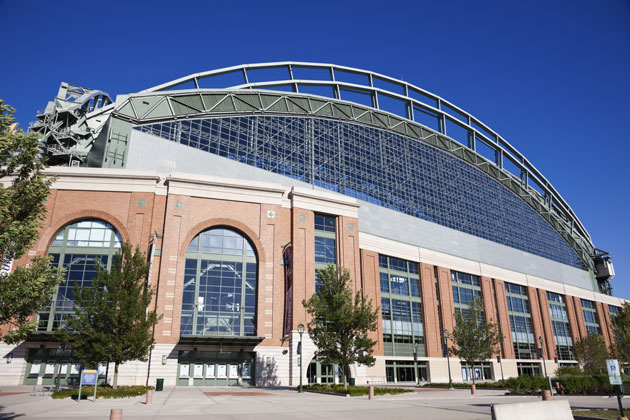 Who's ready for baseball season? We know we are, and opening day is rounding the corner at this very moment.
Like the game of baseball, tailgating is an American pastime. It just so happens that Milwaukee is home to one of the top tailgating venues in the country (let alone Major League Baseball) in Miller Park. Anyone who's been there will tell you that it's a fun and unique place to tailgate, take in a ballgame and get a taste of Milwaukee. From the rows of sausages grilling outside in the huge parking lots to the ones racing inside around the warning track under the retractable roof, the Miller Park tailgating experience has its own distinct character that our community has cultivated since its opening.
With opening day fast approaching, it's time to get primed for your tailgating experience at the ballpark. Here are some helpful tips to make it memorable.
Get there EARLY!
First thing's first – you have to get there early. Miller Park's tailgating reputation is very well-known, and its expansive parking lots fill up quick. The lots typically open about 3 hours before first pitch, but the crowds get condensed quickly. Once the lots do open, space reaches a premium. For your tailgate, you'll want to plan accordingly.
Prep your food the night before.
Three hours may seem like a lot of time. But for a decent sized group of people craving large quantities of meat, it will fly by. Our tailgate catering services can save you a lot of time and hassle of trying to "speed cook." You should know how many people you're feeding, and make sure to boil those bratwursts (2 brats for every 1 beer) the night before. Pre-press those burger patties, slice the cheese, and store it all into plastic containers.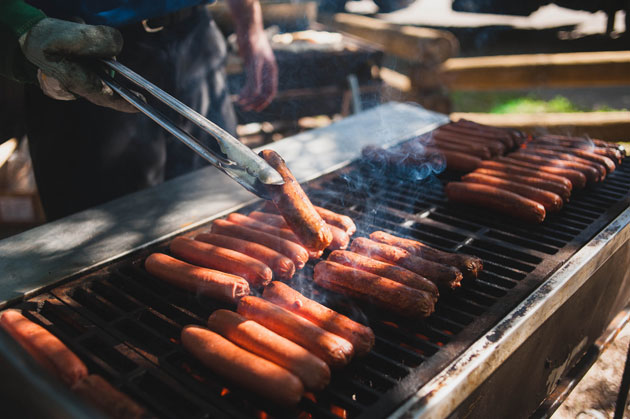 Bring your essential supplies.
As professional tailgate caterers, it's our job to save you the headache of forgetting those essential materials. For utensils, this means going disposable – paper plates, napkins and plastic silverware. For food, this means local toppings like sauerkraut, Kopp's Deli Mustard, and "Secret Stadium Sauce" (which, if you're not from Milwaukee and are not familiar, you'll try and thank us later). Sunscreen, sunglasses, tents, lawn chairs, and portable phone chargers are also vital.
Hoist the colors!
Despite their expansive size, the aforementioned parking lots fill up fast (sometimes after only about an hour or so). After that time (and a few beers perhaps), that expanse might become difficult to navigate. Raising a recognizable flag above your tent can act as a beacon and help prevent one of your party from getting lost after wandering the parking lot.
Bring plenty of entertainment.
Once your tailgate is in full swing, you'll need something to occupy your time before heading in to the park. You should bring plenty of parking lot friendly games and activities like balls and gloves, a football, a frisbee, or even a custom bag toss game.
Follow the rules.
Miller Park has plenty of established rules and fine security personnel to make sure that everyone has a good and safe time. It's important to remain respectful. Only state-approved gas/propane or charcoal grills are permitted in the parking lots. All pre-tailgating must end one hour after the game starts, and then all tailgaters must leave one hour after the game ends. Visit their website for the full list of rules.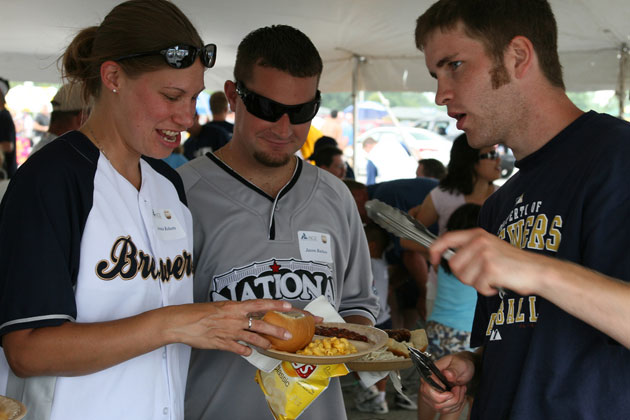 A lot of preparation goes into proper tailgating and doing it the right way, especially for a venue as revered as our own Miller Park. Whether you're supporting the Brew Crew, sporting Cubbie Blue, or anyone else, our talented and experienced Milwaukee catering team can make the process stress-free and make your next Miller Park tailgate tremendous. Click here to read more about Zilli's Miller Park tailgate planning, or give us a call at 262.547.9447.
More articles you might enjoy: