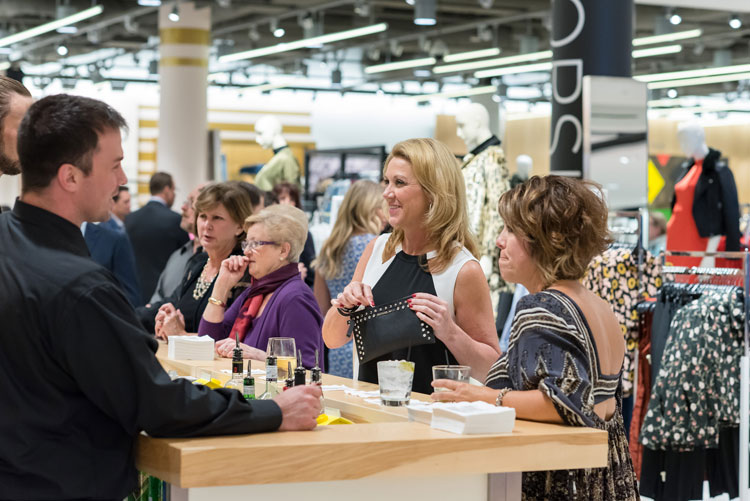 Corporate galas are special events—not only because of the memorable moments they deliver to remarkable guests, but also because of the attention they garner. Let your close knit and extended community cast their eyes on your extraordinary celebration and stellar values. Our team knows how to make every part of your event a flawless reflection of your high standards.
The key to planning phenomenal gala events in Milwaukee is focusing on your guests' experience—let us show you how to treat each attendee like royalty.
How to Make Every Guest Feel Like a VIP at Your Gala
Reserve an Impressive Milwaukee Venue
The best Milwaukee galas whisk guests away into your mission and excitement for it. One of the best and easiest ways to engage your guests is by choosing a captivating location. If you plan to bring the best Milwaukee catering to your facility, then our talented floral and event designers at Adorn can help you transform it to match your event theme. But if you won't be hosting your gala on-site, then you have a wonderful array of striking local venues to choose from.
Boerner Botanical Gardens is one of our favorite facilities available for rent. This vast space has all the room you need to set up each part of your gala. For example, on the Zilli Lake & Gardens property, you can use Coast for your silent auction, Miller Room for dinner and then jet back to Coast for dessert and dancing.

Cultivate a Luxurious Welcome to Your Fine Event
From the time people learn about your event through their first glance of your venue, every introduction to your company and gala should be seamless and enjoyable. Send out high-class invitations with pertinent details and elegant design. For the best experience, these personalized RSVP/ticketing forms should be printed on the highest-quality stationery. You'll also want to send an invitation via email and a follow-up reminder.
When guests step into your Milwaukee venue, make sure they feel right at home—getting situated and finding what they need easily. Having a host to welcome people at the entry is a nice way to further personalize guests' first minutes at your gala. You may even arrange for them to hand off a welcome bag with agenda to each guest for them to check out while enjoying their first sip and bite to eat.
Treat Guests to Incredible Food and Drinks
Your gala menu makes a statement about how much you value your event and have invested in it and your guests' time at it. Let your guests know that you are all in—trusting that they will appreciate the effort you put forward to give them an exceptional culinary experience. Our chefs work closely with you to design a custom menu that is filled with the freshest and finest ingredients. Artfully displayed in beautiful ways, each dish is a wonderful reflection of your organization's class and commitment to excellence.
When working on your gala menu, one of the first things our team will want to know is what inspires your company and what goals drive this event. From there, we may suggest items from our chef's top 10 fundraiser foods, or we may create brand new dishes to spice up your gala menu! Either way, your imagination will soar through our menus and culinary pantry.
Showcase Your Gala Theme with Unrelenting Entertainment
A huge part of Milwaukee gala event planning is embracing a creative theme and selecting entertainment that keeps it alive throughout your event. Build momentum for your big show by announcing your theme ahead of time and even giving guests an exclusive preview of some of the items that will be up for grabs at your silent auction. Logos displayed on your website are a great reminder of the top items that await attendees.
Remember that people love inside access to events and items. Some gala entertainment ideas that give guests this and enable rapid progress toward any fundraising goals you may have include:
Upgraded raffle: When it comes to choosing what items you'll raffle away, think big, bold and memorable. Then consider what DJ will help elevate your gala's atmosphere and amp your raffle.
Modern auction: An electronic bidding system like Gesture is an efficient way to tie guests and their smart phones into your gala's fun and games.
Memorable social sharing: When designing your gala's hashtag, think creative and exclusive to your event. Then display it throughout your event and even on thank-you gifts.
Notable performers: Motivational and inspirational speakers—maybe even people touched by your organization—are one of the highest-impact gala entertainment ideas that few get to experience. Give your attendees this special experience!
Deliver a Personalized Ending to Your Successful Gala
The best Milwaukee gala doesn't end when the event doors close, nor do guests' memories. Keep the memorable moments reeling on replay and your gratitude resounding by reaffirming how much you appreciate people taking the time to attend and extend support for your company's goals. Some easy ways to do this include:
Recognize top donors: At the close of the event, announce the biggest donors on a screen and thank them for their support.
Tally total monetary giving: By announcing the total monetary impact of your event, you assure that even the smallest donations are accounted for.
Send thank-you cards: Follow up with each guest by delivering a personal message of appreciation.
Share your gala's impact: As donations get put to good use, the press takes note of your Milwaukee gala and guests' photos come in, share these on social media and through direct correspondence with guests.
Reveal future goals: An update on progress toward your organization's goals is a great time to announce new aspirations and upcoming events.
As long as you make every guest feel that their experience and possibly donation is vital to your gala's success and company's goals, your event will surpass expectations and have a lasting impact. Doing that relies on working with a nimble team that is honed in on your needs.
To bring 50 years of experience, a creative flare and a meticulous attention to detail to your Milwaukee gala, contact our experts online or on Facetime, or give us a call at 262.547.9447.
More articles you might enjoy: