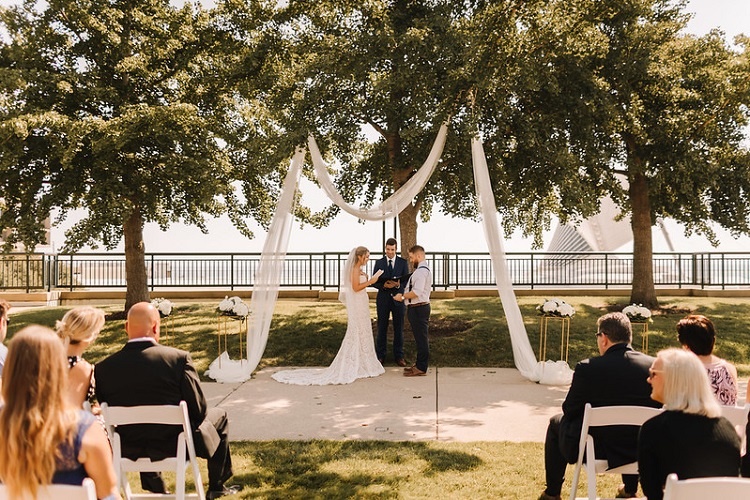 Hailey Stark Photography
Planning a wedding is a special time, but it's a process that often overwhelms the best of couples. That's why it's important to work with experienced wedding professionals who take their time getting to know you and what you envision for your big day. 
We've helped plan over 2,000 outdoor weddings in Milwaukee and are confident in our ability to make sure your day runs as smoothly as possible. From menus to bar service and rentals, we'll come up with a plan that works for you. 
Here, we put together some of the top wedding questions (and answers from real couples and wedding goers), just so you have a better understanding of what we do best as well as our process from start to finish:
FOOD
What can you do to accommodate my guests' different diets?
Thank you to the wonderful staff for making our daughter's wedding reception amazing and accommodating their particular requests. The bride and groom wanted an all vegetarian menu, and Zilli's came through with a delicious and outstanding menu for the cocktail reception and dinner and even arranged for Kopp's custard for the dessert (the bride's favorite)!

–Julie B. via WeddingWire
What about guests who have food allergies and sensitivities?
We have a lot of food allergies and sensitivities in our family. When we got to our tasting, Zilli's had already prepared all of our appetizer and entree choices to accommodate my father's gluten allergy. On the big day, they made my grandmother her own black pepper-free plate of food to accommodate her allergy and served it right to her table even though we had opted into a buffet service for our event. She was absolutely thrilled and felt so much better knowing that she didn't have to worry about making sure she could eat everything on her plate!

–Valerie R. via The Knot
How does a creative culinary presentation affect the guest experience?
The food was incredible. Everything was executed perfectly thanks to Steph and his team. The flaming doughnut station was unique and memorable. Numerous guests that attended our wedding raved about the food and wanted to know who we used for our caterer. We HIGHLY recommend Zilli. My sister and her fiancé are using Zilli for their upcoming wedding in June, and we cannot wait to experience their impeccable service and wonderful all over again!

–Samuel W. via WeddingWire
AFFORDABILITY 
How is the quality of the food comparable to the guest experience?
We've been to many weddings where there wasn't enough food or the quality is less than ideal. [With Zilli], this wasn't the case. Our guests raved about the food, even claiming that it was the best "wedding food" they've ever had. If possible, opt for the late-night sliders and mini chicken sandwiches—our guests loved them! The staff was completely understanding of our food restrictions and continually checked in with us. They were wonderful, and we couldn't be happier with our choice!

–Michelle P. via the Knot 
How can you customize a menu in an affordable way?
Our coordinator recommended Zilli as a cost-effective but tasty option for our wedding catering—and boy, they did not disappoint! A month later and our guests are still raving about the food! Being such an experienced company, they can really do ANYTHING you envision, which was a plus for us. We went with stations, which our guests thought were so fun—especially the stir-fry station (served in Chinese takeout containers!) and the carvery.

–Maddy F. via WeddingWire

From the tasting to the day of the wedding, what does your team do to ensure a seamless process without any surprises or hidden fees?
I am really happy we chose Zilli to cater our wedding. Candy was extremely kind and accommodating throughout the entire process. You could tell she knew exactly what she was doing and had worked with our venue many times. She suggested items we hadn't even thought of, and everything tasted incredible. Our guests were especially happy with the passed appetizers—personal baskets of fresh fried cheese curds. I loved that EVERYTHING was included in the meal prices, and there were no surprises on our final bill.

–Jill B. via The Knot 
SERVICES
What else does Zilli offer beyond the food?
Zilli was an incredible vendor to partner with for our wedding. Everyone we worked with was incredibly helpful, made great suggestions and really helped us craft our perfect day. We utilized Zilli for our floral, meals, linens and other decorations. The food and flowers looked unbelievable, and it was an absolute pleasure working with the staff to make it personal to us. I would recommend them to anyone throwing an event in the Greater Milwaukee area, as the quality of their food, service and expertise is difficult to match.

–Monika via WeddingWire
Besides catering, Zilli provided the most beautiful flowers I have ever seen. They also gave us all first-class attention. The wait staff, appetizers, bar staff, dinner and service were beyond any of our expectations. Thank you Steph Zilli and all of your staff for looking after all the finer details and making this a wedding to remember. Every bride's dream!

–Alix J. via The Knot

The staff the day of the wedding was phenomenal…ALWAYS at hand to fill a glass or clear a plate. Zilli gets an A+ from start to finish. We can't thank you enough for making our daughter's wedding the best we've ever attended.

–Jennifer P. via Facebook
Do you have venues you can recommend?
We had such an amazing New Year's Eve wedding at the Boerner Botanical Gardens with Zilli; we couldn't recommend them enough! The space was perfect—it was great having the garden room for our cocktail hour and then a big reveal of the ballroom for our dinner. If I had the chance to do it all again, I would do it the exact same way with the Zillis!

–Kaitlin V. via The Knot
Zilli did an amazing job at my sister's wedding in June. It was a newer venue in Oconomowoc, Cupola Barn, and Zilli made it seem effortless. They had very helpful and professional staff, and the food was excellent. One of the best meals I have ever had at a wedding. They were so willing to work with my sister and make everything the way she wanted it. I would highly recommend Zilli. Great service!

–Michelle W. via the Knot
PROCESS
I'm planning a destination wedding. Help!
Zilli Hospitality Group helped us plan our wedding from across the country, and they were fantastic. Roxann and her group helped with everything from venue locations to officiant and photographer recommendations. We were never left in the dark, and our questions were answered quickly and candidly. Thank you for making our wedding a day we will never forget!

–Anne C. via The Knot
Do you offer tastings, and what are they like?
I had never been to a food tasting, but it exceeded my expectations. Everyone was so professional, warm and welcoming. The food was incredible. Everything we tasted was amazing, and my husband and I couldn't help but eat everything off of our plate, making it hard to choose which of the amazing appetizers, salads and main courses we wanted for our big day. Zilli was always quick to respond to our questions and didn't hesitate to schedule a second tasting when we couldn't make up our minds on their extraordinary food. On the wedding day, I knew I was in good hands because of Zilli's experience.

–Ali R. via the Knot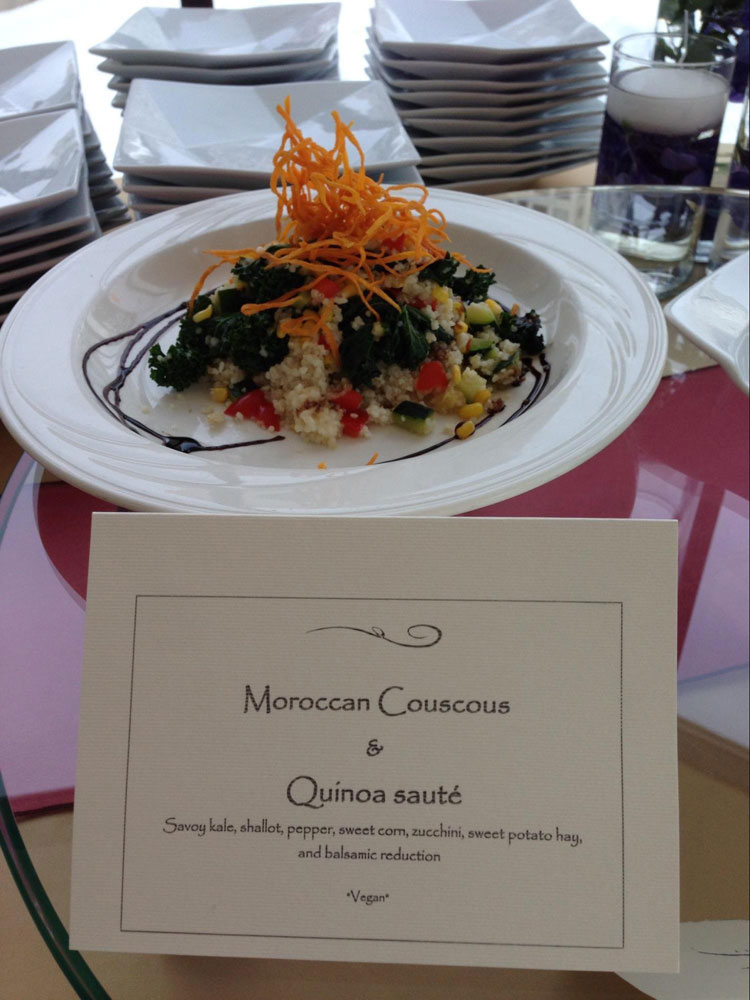 I worked with Candy, Michele and Elizabeth. They were all gracious, kind and patient! They were also very flexible with our schedules. There were several times the groom couldn't make the tastings and other meetings, but they provided a second tasting just for him and kept things moving right along. The food was phenomenal! My guests are still talking about it. Thanks for making us look good! 🙂

–Johnny and Cora via WeddingWire
Can Zilli help me plan other wedding festivities like a rehearsal dinner? 
Zilli's hosted our rehearsal dinner at the Boerner Botanical Gardens at Whitnall Park in early June. They were exceptional in every aspect, from the planning to the event. Our planner worked with me every step of the way, lending her expertise and time, and followed up with a written summary. As a surprise/bonus, they upgraded our event to the Garden Room at no extra charge. This room opened up to the gardens, and our group (of 50) moved comfortably in and out with cocktails and appetizers in hand. The event was so well done, it could have easily been a small wedding. Far superior than a restaurant venue.

–Nina K. via The Knot
Have more questions? Ask away!
This list of frequently asked questions is just a starting point. We understand that couples may have more questions that are specific to them. So, while we're asking, what do YOU want to know about? Let's talk!