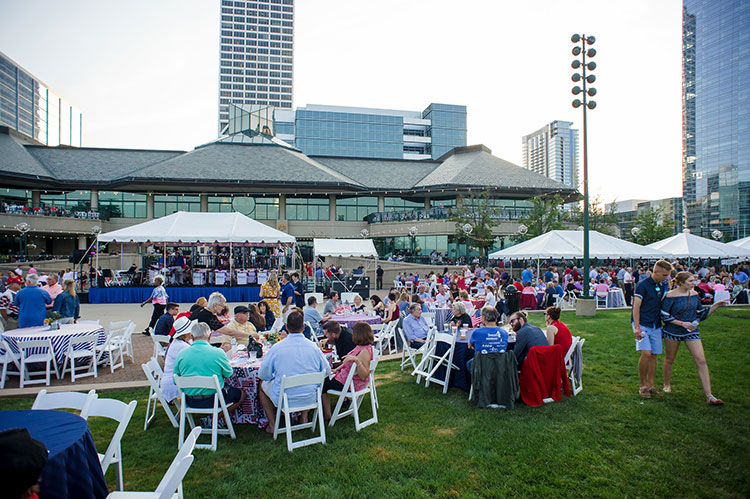 Oh, Summerfest! There are few things as quintessentially Milwaukee as this beloved music festival that has taken over our fair city every summer since 1968. Did you know it's even been certified as the "World's Largest Music Festival" by the Guinness Book of World Records? With over 800,000 visitors annually, over 130 headliners and 800-plus acts, it's no surprise!
If you've been tasked with putting on an event for 20 or 2,000 guests this summer, why not theme it on this local favorite? We're a huge fan of themed events and have produced everything from nature-inspired picnics and Game of Thrones-style weddings to beercade corporate events and many more.
Bringing Summerfest alive with a picnic at your home or establishment would be a true honor for die-hard Milwaukee natives like us! Wondering how we'd help you make it happen? Here are just a few ideas for your Summerfest-inspired picnic:
Festival Food
Anyone else instantly picture beer gardens when they think of summer festivals? There's just something about an ice-cold local brew and perfect snack while listening to music under the hot summer sun. That being said, the highlight to any memorable event is the food and drinks.
Enjoy a menu featuring items like cheese sausage and crackers, pretzels with a healthy dip, shaved ice with infused flavors, cotton candy and fun beers from local breweries. And we can't forget the cheese curds. We'll work with you to create a menu that exudes summertime in Milwaukee to create the ultimate Summerfest vibe.
Endless Music
There is no better way to celebrate Summerfest than incorporating local bands with deep Milwaukee ties like The Bo-Deans and Steve Miller Band.
Our connections to vendors like Clearwing Productions and several other preferred vendors allow us to create the outdoor festival vibe that Summerfest exudes. Another option would be to bring in one of our favorite DJs to play tracks themed on headliners coming in for Summerfest 2019 like Zac Brown Band, Jennifer Lopez, The Killers and Lil Wayne.
Summerfest Swag
It's all about the atmosphere! Our staff will be dressed in old festival t-shirts to create an authentic atmosphere. Tables will be decked out in old promo items and walls covered in vintage, limited-edition headliner posters. Everyone will be able to see the history of the festival unfold and get everyone into the mood for great music and celebrating the season.
Perfect Venues
Let's say you have the guest list and event arrangements prepared but are in need of a location to host this epic Summerfest fete. Whether you want to host a picnic outdoors or craft a more upscale evening event right around the corner from Summerfest, our team can help you find the right spot.
Zilli Lake & Gardens is only three minutes from the festival and is surrounded by other epic spots sporting Summerfest events, so your guests can flow from one celebration to the next! Our venue concierge team will work with you to discover what vibe you're going for and pair you with the perfect option for you and your guests.
The summer will be here before you know it! We're ready to help you create an epic ode to Milwaukee Summerfest. Let's get started!
More articles you might enjoy: