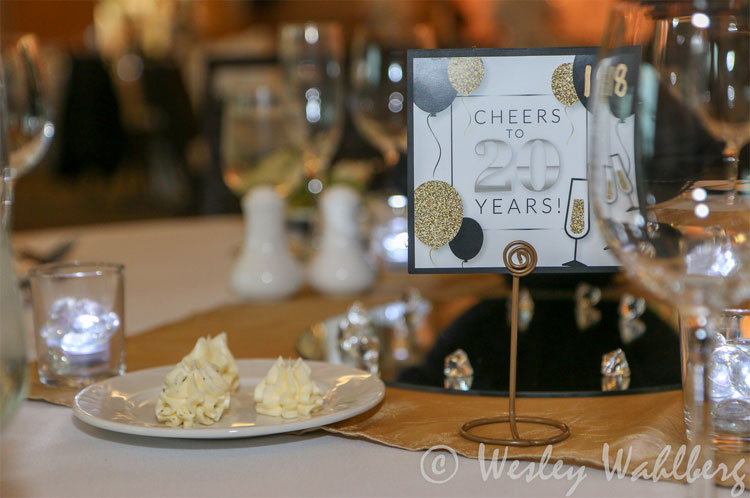 For the last two years, Sue Ruedinger and Doris Jome have led the St. Alphonsus Parish Gala held at the Boerner Botanical Gardens in Milwaukee. This year, the gala drew in 220 guests. Auction funds raised go toward the parish's education and outreach programs. The parish aims to provide a "spiritual home for 8,000 individuals and a positive force for the community and even around the world."
Prior to the gardens, the event took place at the parish itself located in Greendale, Wisconsin, functioning like a three-day festival. However, the volunteer auction organizers ran into everything from weather concerns to parking unavailability and volunteer shortages.
The team at St. Alphonsus Parish, who has been partnering with us to cater their event for the last two years, inquired about our venue capabilities. Our exclusive venue partner, Boerner Botanical Gardens, was a natural fit for them, providing both a convenient location and a beautiful setting for the auction.
Smooth planning process, tasting and event setup
Ryan, Cheyenne and Angela were some of the Zilli team members who helped ensure a smooth event for the parish. Since this is their second time working the event, they provided Sue and Doris with ways to improve the event from last year. For example, they recommended uplighting for the venue, which elevated the setting even more. Overall, the whole team was quick to respond to guests' requests and answer questions along the way.
Paula was the main point person from the beginning of the process. She offered a guiding hand, helping organizers stay true to their theme with menu choices.
"We really enjoyed the tasting experience," Sue said. "Paula always has great menu ideas. She pays attention to what's trending and how to provide options that are unique and different while still fitting our theme. Zilli does a good job of giving us a variety. And the food is always hot."
The Zilli team provided event setup a day ahead of time this year. This helped to eliminate some of the day-of stress for the parish organizers and volunteers. They arranged tables and seating in the lobby, Nell's Cafe, garden room and atrium, which is where guests spent the majority of the event.
A tribute to 20 years
This gala was especially important, as it marks its 20th year. Sue and Doris envisioned a cocktail party theme. The setting was dressed in signage proclaiming "Cheers to Twenty Years" and gold and white linens with black napkins. Balloonee Toonz, a Milwaukee design and delivery company, provided a balloon champagne bottle with bubbles coming out—a fun piece for the event.
Mouthwatering appetizers and creative culinary presentation
The volunteers provided the service for the parish event. After guests visited registration and settled in, volunteer servers greeted guests with a variety of flavorful hors d'oeuvres, including:
Tarragon Chicken Salad, Cucumber Cup: English cucumber cup, tarragon chicken salad, garnished with micro greens.
Seared Ahi Tuna, Wonton Crisp Wasabi Aioli: Sesame seed encrusted tuna that is lightly seared and served over fresh pea shoots, wonton crisp and wasabi aioli.
Roasted Pear Tartlets: Roasted brunoised pear seasoned with warming spices and served with melted smoked gouda cheese in a phyllo shell and drizzled with honey.
Bacon Wrapped Chicken With Bourbon Maple Glaze: Bacon wrapped chicken dipped in a bourbon maple glaze.
Petite Crab Cakes With Chipotle Aioli: Breaded crab cakes topped with a dollop of chipotle aioli.
The appetizers were a big hit with guests. Everyone enjoyed this time to mingle and have a few drinks. Zilli provided the bar service for the night.
An enjoyable plated dinner with family-style desserts
Guests made their way to Boerner Hall and took their seats for the prayers and speeches that took place on the stage arranged in the center of the hall.
Everyone enjoyed their first course, Shaved Fennel Salad—mixed greens, shaved fennel, toasted almonds and mandarin oranges with a sweet blood orange vinaigrette.
This was followed by an elegantly plated feast, which featured a beautifully plated Tenderloin Filet Mignon & Grilled Chicken Duet. Choice of sauces were Truffle Mushroom Compote—sautéed mushrooms seasoned with thyme, garlic, salt, pepper and finished with truffle oil—and a Champagne Cream Sauce. Sides were Risotto Cake and Baby Carrots Wrapped in Leek. Dinner was served with red, white and sparkling wine.
Dinner ended on a sweet note. Servers provided a delectable arrangement of desserts including: Raspberry Cheesecake Tartlette, Creme Brulee and Assorted Dessert Bars.
 Auctions, raffles and more
After a hearty feast, guests headed over to Nell's Cafe for the activities of the night, which featured a live auction, silent auction, gift baskets and cash raffles, wine cork pull and a gift card mix and match. This year the parish sold chocolate truffles. Some of the hottest items included a golf package, an outing on the Milwaukee River, two Instant Pots, Green Bay Packers tickets, a Kate Spade purse, a Ring video doorbell and Moscow mule and margarita baskets.
Zilli Hospitality Group enjoys seeing how much money is raised from the ZHG donation(s) for the client's cause. Their donation is a full-service catered event with a value of $1,650.00. The live auction's highest bidder chose the "Gourmet Feast," an authentic Indian dinner for six people.
Looking forward to next year's gala
It was an enjoyable evening for everyone who attended. We were happy to hear that the parish raised $82,000!
"The whole Zilli team is friendly, good humored, easy to work with and did everything they could to make the night go off without a hitch. They made our lives easy and unstressed so that we could focus on our guests. Everyone loved the appetizers, and the food for dinner was wonderful and served hot. Our 2019 parish auction was a success, and we are already looking forward to 2020!" -Sue Ruedinger
Are you interested in planning a gala for an important cause? We'd love to help! Contact us online or call (262) 547-9447.
 More articles you might enjoy: