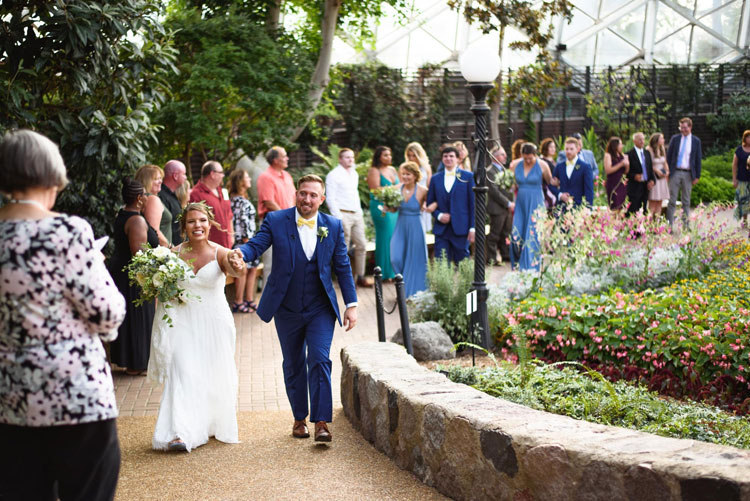 Venues can make or break wedding festivities, which means finding the right match to your style is a very important part of the planning process. We suggest you first ask yourself this question: should we celebrate indoors or outdoors?
With tons of incredible indoor and outdoor venues, there is no wrong choice! Zilli Hospitality Group partners with the venues in this handpicked selection, each with its own personality and style for your outdoor or indoor wedding.
Celebrate Under the Stars: Our Featured Outdoor Wisconsin Wedding Venues
Though their availability definitely depends on the season (Wisconsin winters may be beautiful, but they are cold), outdoor venues create memorable ceremonies often surrounded by the beauty of nature and architecture. Here are some of the best options for memorable celebrations.
BOERNER BOTANICAL GARDENS | HALES CORNERS, WISCONSIN
The stunning Boerner Botanical Gardens play host to some of the most beautiful wedding ceremonies and receptions, both in their lush outdoor space and lovely interior rooms.
THE FARM AT DOVER | DOVER, WISCONSIN
Perfect for rustic weddings, The Farm at Dover is a breathtaking venue that combines ample natural beauty of Midwestern farmland with historic, classic ceremony and reception spaces.
THE DOMES – MITCHELL PARK CONSERVATORY | MILWAUKEE, WISCONSIN
The Domes are truly unique "outdoor" venues because they're not outdoors at all! Weddings in any season are perfectly complemented by the abundance of natural beauty in these three greenhouse spaces.
THE ANNEX | MILWAUKEE, WISCONSIN
The Annex at Mitchell Park, a greenhouse and unique Milwaukee venue, showcases the iconic architecture the city is known for. The 15,000-square-foot glass house offers prime views of the historic Mitchell Park. For a truly memorable reception, try dining and dancing under the stars.
MILWAUKEE COMMUNITY SAILING CENTER | MILWAUKEE, WISCONSIN
Though not strictly an outdoor venue, the Milwaukee Community Sailing Center has an outdoor balcony space overlooking downtown Milwaukee and the lake.
MILWAUKEE COUNTY WAR MEMORIAL CENTER  | MILWAUKEE, WISCONSIN
Built and designed in 1967 by Finnish-American architect Eero Saarinen, this venue offers a classic, American prestige that elevates any wedding or event held here. The center's Fitch Plaza is a favorite wedding spot in Milwaukee.
LILAC ACRES | WAUKESHA, WISCONSIN
Lilac Acres is a countryside event venue located in Waukesha, Wisconsin. Lilac Acres' renovated barn reserved for ceremonies features a white-washed interior, rustic brick backsplash and custom-made pews and chairs. It also has a reception barn that is fully climate controlled and includes a food prep room, loading dock, patio and fully licensed bar.
TRIMBORN FARMS | GREENDALE, WISCONSIN
Trimborn Farm, is a modern rustic wedding venue in Greendale, Wisconsin. Its 180-year-old story adds to the authenticity of a true countryside experience.
ZILLI LAKE & GARDENS | MILWAUKEE, WISCONSIN
Zilli Lake & Gardens is an expansive lakeside wedding venue, offering multiple indoor and outdoor spaces and some of the best views of Milwaukee. The entire property can accommodate up to 2,000 guests, but since the venue consists of multiple smaller spaces for you and your guest celebrate: Miller Room, Coast, North Gardens and South Gardens.
The Best Indoor Wedding Venues in Wisconsin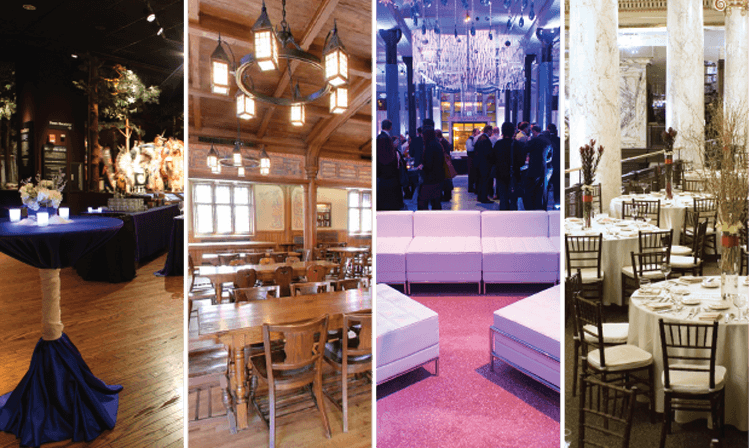 Architecture and décor inspire wonder in guests. Indoor venues have their own style and history you can use to enhance the vision for your celebration. Here are four of the best indoor venues in the Milwaukee area for your next beautiful wedding celebrations.
HISTORIC PRITZLAFF BUILDING | MILWAUKEE, WISCONSIN
The Pritzlaff properties are all perfect examples of how indoor venues can be the farthest thing from boring. With unique contemporary décor that matches a wide variety of themes, these four venue spaces are ideal for your wedding.
MILWAUKEE COUNTY HISTORICAL SOCIETY | MILWAUKEE, WISCONSIN
One of the most intriguing venues, the Milwaukee County Historical Society is a renovated bank that kept all of its original glitz and glamor. Weddings held here are defined by the elegance and opulence of the venue.
BEST PLACE AT PABST BREWERY | MILWAUKEE, WISCONSIN
Bright, beautiful murals line the walls and exemplify the historic charm of Milwaukee's original pubs. Best Place at Pabst Brewery is ideal for lively wedding festivities and an overall good time.
Wedding planning sometimes seems so overwhelming that it no longer seems fun. Here at Zilli Hospitality Group, our professional team is dedicated to helping you flawlessly plan your perfect wedding, from the first step – choosing a venue – to the last.
CUVEE | MILWAUKEE, WISCONSIN
The loft-style venue is a chic place for modern weddings. With its brick walls, hardwood flooring and natural lighting, your guests will enjoy a classy affair that pairs best with a bottle of champagne. 
THE BOX | MILWAUKEE, WISCONSIN 
This sophisticated indoor wedding venue offers an urban environment that can easily be transformed into the dream you've envisioned for your big day. The simple decor, variety of seating arrangement possibilities and relaxing atmosphere are all desirable traits of this blank slate space.  Located in Downtown Milwaukee, The Box makes for a lively experience for your guests.

MERCANTILE HALL | BURLINGTON, WISCONSIN
Located in the historic Downtown Burlington, Wisconsin, Mercantile Hall is a non-traditional indoor venue with a whole lot of heart. After being ravaged by fire in 2014, the former furniture store was restored and transformed into a gorgeous rustic setting.
PLANT NO. 4 | MILWAUKEE, WISCONSIN
Plant No. 4, centrally located in Milwaukee's Third Ward, offers an elegant industrial setting with plenty of open space and vintage decor. This unique blend of new and old makes for a once-of-a-kind wedding.
1451 RENAISSANCE PLACE | MILWAUKEE, WISCONSIN
The Renaissance Place features many elegant indoor spaces that will enchant any wedding goer. Its graceful ballroom, historic charm, and one-of-a-kind design will provide an upscale setting for your fairytale. 
If you need more insight into any of these Milwaukee wedding venues, feel free to use our venue finder, which allows you to select filters like capacity, indoor/outdoor settings and price point. Once you select your filters, you can compare up to four venues side-by-side.
We're excited to create your dream day! Give us a call at 262-547-9447 or contact us online!
Need Help Finding the Perfect Venue?
Feeling overwhelmed by the number of incredible Milwaukee venues to choose from? No worries! Our complimentary wedding venue concierge pairs you with a Zilli wedding professional, who will give you an in-person tour of every venue that matches your specific vision.
More Articles You Might Like: