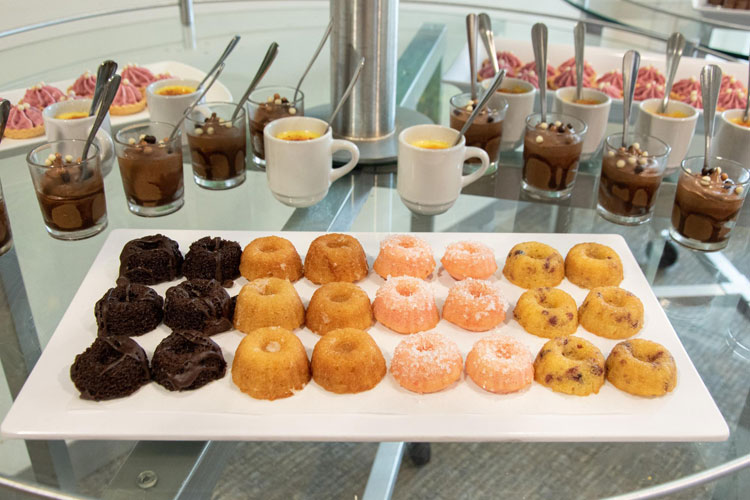 The official wedding ceremony and reception can be full of intense emotions. However, the pre- and post-wedding parties are your time to relax, have fun and shake off any anxiety. While these parties are subject to long-standing traditions, there is also plenty of room for personalization and creativity.
As one of Milwaukee's top caterers, we can help you put a unique touch on these pre- and post-wedding celebration ideas.
Top Pre & Post Wedding Party Tips
 Engagement Party
Soon after making your love official, you will surely want to share your joyous announcement with close friends and family. The bride's parents traditionally host this pre-wedding party. However, anybody with a desire to host is welcome to kick off your journey to tying the knot. We have also seen engagement parties with an emphasis on honoring the couple's culture, like this stunning Indian engagement party in Milwaukee.
Tip: Create a limited registry for guests who want to give you an engagement gift but remember that celebrating among good company is the primary gift of this pre-wedding celebration.
 Bridal Shower
Your wedding shower will likely be a surprise occasion organized by the maid of honor or the entire bridal party. Traditionally, bridesmaids share the costs of gathering close friends and family for gift giving and celebrating. Sometimes, though, the bride's family will offer to host the party at their house or pay for a portion of the catering bill. These gestures are ways for the bride's family to show they care while easing the financial strain on the bridesmaids.
Gift giving takes place after guests enjoy a delicious meal, likely from a custom menu designed by a top Milwaukee catering company. Cake and coffee often follow and lead to more relaxed conversations.
Tip: The bridal shower is traditionally a casual event exclusive to the ladies, but it is absolutely acceptable to host a co-ed shower. This is often the case when co-workers want to throw a party to show their support for your engagement. Just be conscious of how many times you invite guests to these gift-giving events, and don't forget to write thank you letters!
Couple's Shower
The bridal shower is traditionally a casual event exclusive to the ladies, but it is more than acceptable to host a co-ed shower. Your couple's shower can still include gift-giving, but it's important that there's a mix of activities for everyone to partake in. A gathering at your favorite restaurant or bar or casual barbecue in your parents' backyard would provide inclusive settings everyone can enjoy. If you're going the barbecue route, check out this menu!
Same-Sex Showers
Showers are not just reserved for brides—sometimes they're reserved for both brides. Depending on the situation, some same-sex couples like to have their showers separate, while others wish to share the celebration. In these cases, the unique elements should be tailored to match the couple. But the premise is the same: invite guests, feed them lots of delicious food and watch your loved one(s) open gifts that make them laugh and smile.
 Bridesmaids Luncheon
This is your chance to thank your bridesmaids by treating them to a nice lunch. Hiring an exceptional Milwaukee catering team is a great way to say thank you. We can even make a pink cake with a trinket inside! It's also tradition to give your guests small gifts for attending.
Tip: Choose a trinket that means something to you. It's said that the bridesmaid whose cake slice contains it will be the next to marry, but a bit of creativity can add even more of a symbolic meaning to the charm.
Bachelor & Bachelorette Parties
Shake out your pre-wedding jitters any way you like. From a night at the casino to a quiet dinner in your own home, you get to choose how to relax with your buddies. The time frame of this pre-wedding party can vary from a single evening to a mini trip. Just keep in mind that destination parties are typically more costly.
Tip: Choose a date at least a week in advance of your wedding. This will prevent hangovers from hampering your wedding responsibilities.
Welcome Party
The wedding welcome party helps your out-of-town wedding guests properly settle in before the official wedding agenda begins. These dinners are especially important for destination weddings and may take place several days before your big day. Milwaukee is a great place to have a destination wedding—there's so much your guests can do leading up to the wedding.
However, if your wedding is taking place at a local venue, there's a good chance it will fall the night before your big day. You can even pair it with your rehearsal dinner if you're down for a double dose of pre-wedding partying in one evening.
 Rehearsal Dinner
The rehearsal dinner provides the couple with the final send-off before the grand show. It's usually a casual gathering that allows loved ones to come together and rehearse for the big day, which is followed by an epic night of drinks and toasts. You don't want anyone to party too hard though, so avoid hosting it too early. Shoot for the day before (or a few days before) the main event.
Tip: Talk with your Milwaukee catering company to determine whether a plated dinner or buffet-style meal will best suit your guests and event venue. Be sure to provide plenty of cocktails and hors d'oeuvres, as they provide a time for guests to mingle and introduce themselves to each other.
 Wedding After-Party
If you want to keep the party going long after your wedding reception, invite guests to a local hot spot or create one of your own. We can design a karaoke bar or set up a casino-style blackjack and poker table in your hotel. Nearly anything goes with a few strong drinks!
Tip: Arrange for transportation and check that the venue can accommodate your guest count.
 Morning-After Wedding Brunch
Unwind and say your goodbyes to out-of-town guests. From food to décor, keep your post-wedding brunch simple yet elegant. Be sure to have plenty of refreshing drinks and healthy food to help guests overcome any hangovers.
Tip: Reuse the color scheme and centerpieces from your wedding reception as a budget friendly way of keeping a nice flow from one celebration to the next. If you decide you would like to add a little something extra special, consider creating your own custom table linens that reflect your personal style as a couple.
 Day-After Wedding Fun
With all your closest friends and family gathered, why not show them all that Milwaukee has to offer? From museums to art centers to beach scenes, there are some incredible places and landmarks you could visit. The amount of photo ops you and your squad can take part in is endless.
 Honeymoon
Choose a paradise that will let you celebrate your commitment to each other while making new memories. Also take a moment to pat yourself on the back for planning a wedding that you and your guests will never forget.
Tip: Surprise your loved one with a massage. It can work wonders on the mind and body!
Wedding celebrations are filled with traditions, but they also invite creativity. Working with a trusted catering company in Milwaukee ensures that these parties are stress-free occasions filled with good food and high spirits.
To bring four decades of experience and meticulous attention to detail to your wedding party, contact us online or give us a call at 262-547-9447.
Need Help Finding the Perfect Venue?
Feeling overwhelmed by the number of incredible Milwaukee venues to choose from? No worries! Our complimentary wedding venue concierge pairs you with a Zilli wedding professional who will give you an in-person tour of every venue that matches your specific vision.
More Articles You Might Like:
Married in Dairyland: 4 Cheesy Wisconsin Wedding Ideas