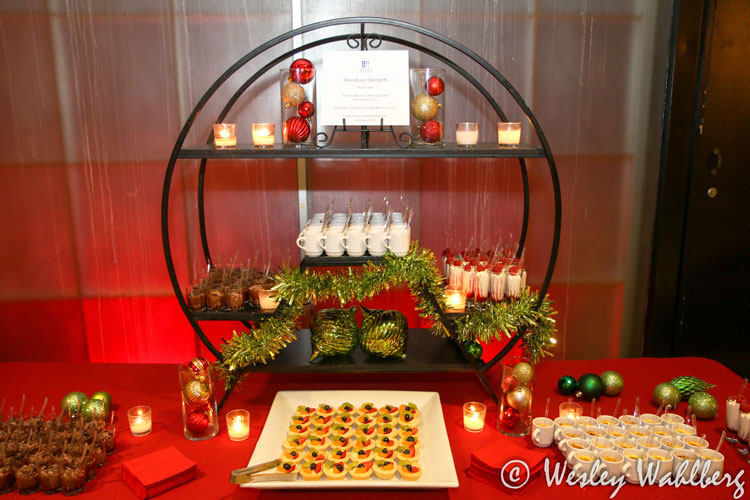 'Tis the season to celebrate! The toughest part? Determining where to host your fabulous holiday fete. Whether it's an intimate family gathering or a grand corporate soiree, the decision is never an easy one. We wanted to share with you some locations that are worth highlighting when trying to find a spot to celebrate the season in Milwaukee.
Complimentary Room Rental
For a limited time, we're offering complimentary room rentals for a holiday party at one of our exclusive venues mentioned below.
Call or email today and mention "holiday complimentary room rental" to capitalize on this offer.
Coast
While Coast is well known for corporate gatherings and weddings, it's also the ideal spot to host a large dinner party to bring together family for a holiday celebration. With the ability to host up to 300 people, you can either rent the entire space or simply reserve the Coast Lounge or Wave Bar for an area large enough to accommodate your family.
The best part? Everything is already in place for you, so it's very hands-off when it comes to planning—no rentals required, plenty of delightful menu options, a photo-ready location and more. Speaking of photo-ready, make sure everyone wears their warmest gear to get a gorgeous family photo right on the lake outside the venue. Check off your holiday card before this year is over!
Miller Room
The Miller Room is situated along the lakefront as well, right on East Michigan Street, and it is the ultimate multi-purpose space for your corporate holiday party. It provides all the staples like tables and chairs, a coat room for those cold winter days and a lectern so you can hand out official end-of-year awards, deliver innovative presentations and more.
It's great for companies because you can accommodate almost 250 for dinner. However, if you have extra space, consider renting interactive games to create a casino night or throwback video game theme where employees can have fun outside the office.
The Annex
If you're a large company with the need to completely transform a space, The Annex at Mitchell Park is the right location. This unique holiday party venue is the only event space in the city of Milwaukee that is also a greenhouse—which means your guests will be celebrating the holiday season with stars shining overhead.
The venue can host up to 600 people for a cocktail-style event or 350 for sit-down. During one holiday event we put together at The Annex, we coordinated lighting to match the company's logo and arranged delicious food stations throughout the venue for an all-around-the-world theme to get people moving and mingling. The options are endless at The Annex; it's so fun to see it all come together perfectly in the end.
The Domes
For a holiday party with big impact, consider The Domes. If you're hosting a huge holiday bash for your employees and best clients, you need an option with a "wow" factor that will keep everyone's attention on the event at hand. The Domes has three indoor oases that double as stunning event locations. Each one transports you to another land with lush greens, walking paths, floral species you've never seen before and so much more.
Theme the menus around The Domes with Caribbean stations in the Tropical Dome, Moroccan dishes in the Desert Dome and farm-to-table spreads in the Floral Shower Dome for an evening that will be truly unforgettable.
Milwaukee Historical Society
For a cozy space with a ton of character, Milwaukee Historical Society is a great location to host a holiday party with all your friends. It is always fun to get people together to celebrate the holidays in a fancy dress and with a glass of champagne in hand, right? At Milwaukee Historical Society, your friends will be welcomed by extravagant lighting fixtures, intricate gold accents, gorgeous tiled floors, soaring pillars and other neat touches that make it the ultimate spot to snap a photo for social to commemorate the evening.
When it comes to planning holiday parties in Milwaukee, the options can be overwhelming. But with some assistance from our experienced planners and expert venue selection specialists, our venues will provide the perfect backdrop for stress-free holiday celebrations. Contact us today to lock in your holiday party date and get planning!
More articles you might enjoy: