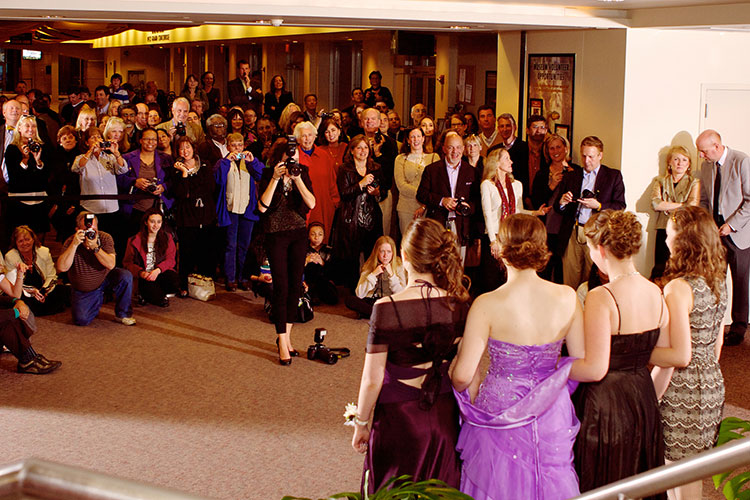 If you've checked out our tips for planning a prom in Milwaukee, then you understand that the experience guests enjoy depends more on your creativity than your budget. And the theme you set is the glue for all your imaginative prom decoration ideas, so make sure it is one that will stick with guests throughout your event.
Our team of experts has outlined how to execute prom themes in ways that make for a cohesive and unforgettable night.
5 Steps to Exemplifying Top Prom Themes
1. Use Dynamic Backdrops to Set the Scene
We hope you have had the chance to meet our skilled design team. ADORN can help transform your prom venue to cultivate all your prom theme ideas in unique and memorable ways. One of the best ways to establish a captivating atmosphere is by creating a backdrop that exhibits your event's theme. One creative way of doing this is creating a flower wall in your prom color theme.
Creative backdrops for top prom themes include:
Under the sea: Swag material with sea turtles swimming on the ceiling of your venue.
Vintage Hollywood: Red carpet, a gold backdrop and stars placed throughout your event space perfectly execute Hollywood prom themes.
Mardi Gras: Metallic fringe can be used at door entries, in photo booths and anywhere else that you want to give guests a dazzling good time.

2. Personalize Décor to Make an Unforgettable Statement
We can create decorations that exude your unique style and get guests excited about your prom theme and activities. Centerpieces are great talking points and are readily customized to demonstrate your theme in unique ways that hint at what entertainment guests will enjoy at your party.
Some of our favorite prom table centerpiece ideas to signify top themes include:
Masquerade ball: Masks, beads and feathers in your prom theme colors create a glamorous display of your masquerade theme.
Beach: A glass vase can be filled with sand and all your favorite beach items like shells. You can even write your prom year on the seashells!
Carnival: Popcorn centerpieces are the way to go and can easily be custom printed with your prom's slogan or year.
Candy land: Oversized candy is a great way to allude to a candy station that will soon roll out.

3. Customize Prom Decorations with a Hashtag
You may have seen the hashtag #ZHGLovesProm on menu signage at the greatest Milwaukee proms. It's true—we do love bringing prom dreams to life in innovative ways that excite guests. But we are also keen to print other prom hashtags on signage and décor that we personally design for you. This is a great way to help guests share their experience on social media, especially when you display it on or near a photo booth.
To help you start brainstorming, here is some prom hashtag inspiration:
Hollywood theme: Everyone will feel like a star at your prom, so go with #PromStar.
Under the sea theme: For a fun play on Finding Nemo's "just keep swimming" line, try #KeepProm-ing.
Casino: As guests test their luck at various games, they can tweet away using #LuckyProm.
High in pride: Spread your high school mascot throughout using a hashtag like #dolphinpride alongside themed activities.

4. Set Up Fun and Fitting Food Stations
Interactive food stations are the best way to keep guests engaged with your prom theme through every minute and bite! Our culinary team loves to create custom stations around your event theme, and these are always tremendously popular among teenagers.
Food stations that live out top prom themes include:
Cinco de Mayo: Select among cheese, vegetable, chicken and beef quesadillas. All are served with guacamole, salsa, sour cream, tomato and shredded lettuce and are a fun way to celebrate a Cinco de Mayo prom theme.
Around the world: Take guests on a global culinary experience with build your own rice bowls, a pasta bar a la prom, a baile de fin de curso fajita estaciòn and build your own mac & cheese station. You can also bring out an Italian soda bar and coffee bar!
Chocolate factory: A candy theme is a great excuse to set out a chocolate fondue station with fresh fruits, cookies, marshmallows and pretzels.
5. Create a Snapchat Filter to Keep the Chatter Going
Snapchat just keeps gaining in popularity, and your theme will too when you create a filter just for it! Make guests' experience during and after the event just a little bit more fun thanks to your creativity framing their photos and experience. For every prom photo and moment, there is a unique way to augment it with a custom filter.
Some of our favorite Snapchat filter ideas for fun prom themes include:
Great Gatsby: Gold backdrops, sequin linens, feathers, pearls and pearl balloons frame your guests' stories.
Springtime in Paris: Tulips and pastels bring joy to every moment.
Casino: Red, white and black with playing cards and poker chips capture the game atmosphere.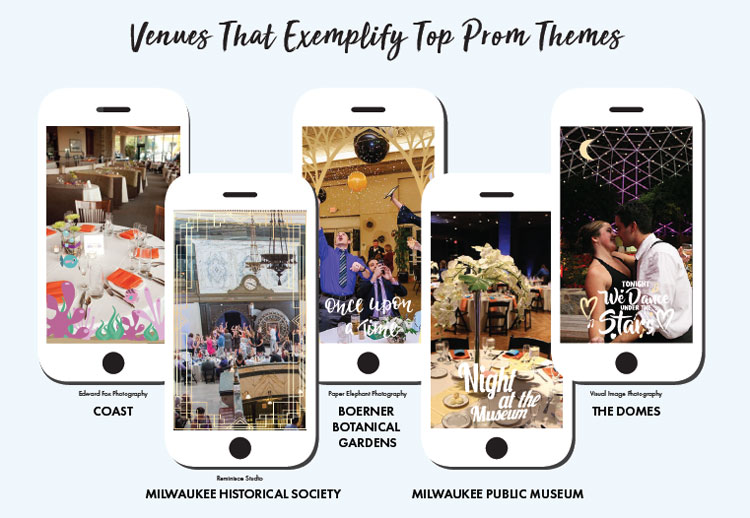 For 50 years, we have had the joy of elevating creative event ideas and executing themes in unforgettable ways. To see what our extensive expertise can bring to your prom theme, contact us online or give us a call at 262.547.9447.
More articles you might enjoy: